Aarong – Bengali for 'village fair' – is Bangladesh's most popular lifestyle retail chain
This ethical brand began in 1978 as a humble means to empower rural artisans to rise above poverty. Today, with 28 retail stores across Bangladesh and over 100 fashion and lifestyle product lines, Aarong supports 70,000 artisans with fair terms of trade. Revolutionising the retail industry with high standards for quality and artistry, this iconic brand blends the traditional with the contemporary in ways that never cease to win consumer appeal both at home and abroad.
In 1976, when BRAC– the world's largest development organisation – engaged a small number of rural women to produce crafts, their only buyers were a few scattered retailers in Dhaka. Weeks, even months would pass between supply and payment, until BRAC intervened and established Aarong to pay the rural women for their goods on time. Over the past four decades, Aarong has carved out a unique market segment for handicrafts, reviving Bangladesh's rich heritage and impacting the lives of more than 325,000 people through 650 small entrepreneurs and the Ayesha Abed Foundation. The foundation acts as Aarong's production hub, where artisans find employment and access to many well-being programmes such as health insurance, access to micro-credit and saving instruments, legal aid, day care for working mothers, awareness on rights and access to government benefits, and gratuity payments upon retirement.
From clay pots to diamond jewellery, and silk and cotton fabrics to brass and leather products, Aarong's vast range of innovative products, backed by a robust supply chain and distribution network, makes Aarong truly a household brand in Bangladesh. Its growing presence outside of Bangladesh – through fair-trade networks and the online shop– continues to broaden the market for Bangladeshi crafts globally, creating more opportunities for artisans to protect their age-old art and livelihoods.
Our Mission
Our mission is to empower people and communities in situations of poverty, illiteracy, disease and social injustice. Our interventions aim to achieve large scale, positive changes through economic and social programmes that enable women and men to realise their potential.
Our Values
Integrity
Innovation
Inclusiveness
Effectiveness
our brands
aarong
Started: 1978
Specialty: Handcrafted fashion & lifestyle
Outlets: 28
Products: Apparel, jewellery, home décor & crafts
taaga
Started: 2003
Specialty: Women's fusion wear
Outlets: Shop-in-shop inside all Aarong outlets
Products: Apparel & accessories
taaga man
Started: 2018
Specialty: Men's ethnic & western wear
Outlets: Shop-in-shop inside 25 Aarong outlets
Products: Apparel & accessories
HERSTORY by Aarong
Started: 2017
Specialty: Women's haute couture
Outlets: Aarong Banani, Tejgaon, Uttara and Chattogram Sholoshahar
Products: Apparel
aarong earth
Started: 2020
Specialty: Herbal skin & haircare
Outlets: All Aarong outlets
Products: Face, body & hair care
our Journey so far
1978
Aarong opens it's first outlet in Shukrabad, Dhaka, Bangladesh to ensure market linkage for marginalised women.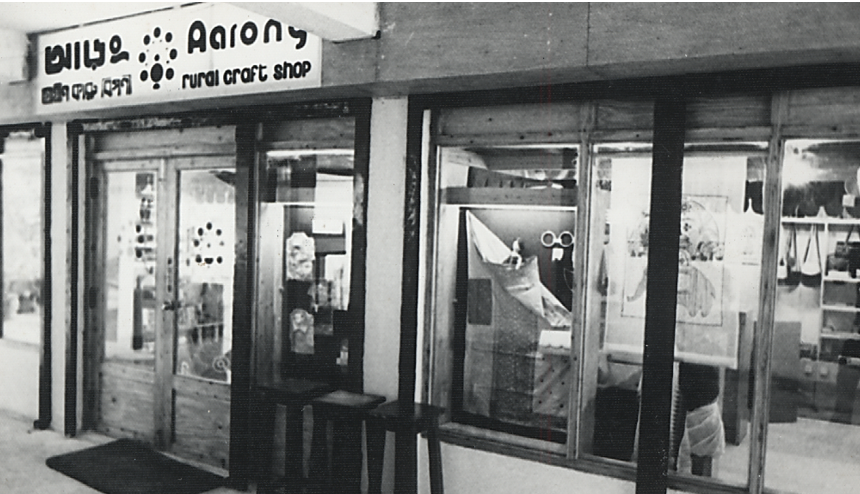 1982
The Ayesha Abed Foundation was established to provide an appropriate working environment, financial and technical assistance and training to develop women's skills in various crafts. Today, with over 20,000 artisans, it operates 14 craft production centres and over 700 hand embroidery sub-centres in rural and semi urban areas.
our Awards
Excellence in Supply Chain Finance Bangladesh Supply Chain Management Society (BSCMS) 2018 & 2019
International Craft Award Craft Village Organization, India 2017
Asia Marketing Excellence Award The Asia Marketing Federation (AMF) 2016
Best Brand Award Bangladesh Brand Forum 2015
Award of Excellence for Handicrafts UNESCO 2012